Outsourcing Tech - 3 Reasons Why You Shouls Outsource Software Development Services?
In 2018, the global IT outsourcing market earned $85.6 billion and was poised to grow by USD 79.55 billion during 2018-2022. According to a Global Industry Analytics report, the outsourcing market will reach up to $220 billion by the end of 2020.
These statistics prove the need for Fortune 500 SMEs, MSMEs, and small businesses to have a trusted software development outsourcing partner.
IT development outsourcing is a competitive strategy that companies can use on a long-term basis. It allows companies to concentrate more on core business operations while keeping the budget under control.
As per the State of Software Development Report, about 24% of employers face difficulties finding the right technical talent.
A recent survey on the Global Developer Population shows the talent flow will only increase in the coming years, and India will outshine as the significant supplier of the technical workforce globally.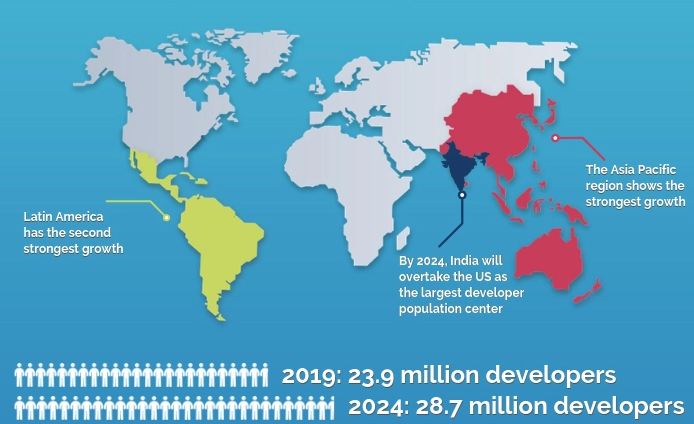 In the era of globalization, companies focus on minimizing costs, enhancing customer service, and maximizing business efficiency. Outsourcing software development services can be beneficial for companies in many ways. This article highlights 3 significant benefits of – Why should you outsource the Software Development Services?
1. Focus on Vendans Primus
'Jack of All Trades and Master of None' doesn't work well for running a business. The famous and most successful business leaders often promote concentrating on the – Core Business. With digitalization and globalization, companies must be technologically equipped to sustain themselves in competitive markets. By outsourcing the software development services to a third-party vendor, companies get the advantage of putting all the resources to work towards their core business areas.
2. Cost-Effective
Earning profits and making money is the main objective of any business. Creating an internal team of developers can consume a lot of effort, time, and money. Outsourcing helps companies cut costs while reducing the hassle of creating and managing internal teams. In several countries, including India, labor costs are comparatively lower, and companies can save up to 60% of setting internal IT teams.
3. Keeping pace with the Technological Advancement
Technology evolves daily, and keeping up with the growing economy can be concerning. Outsourcing allows you to work with innovative people worldwide with diverse and robust technical expertise. If you want to change your technology, there is no burden of managing existing resources or hiring new resources. Your technology partner works it all for you!
For More, Visit our next blog on 5 Key Practices For a Cio To Lead Digital Transformation.
Are you looking to transform your business? Are you planning to outsource software development? Drop your requirements at sales@viruspositive.com & our team will get in touch with you instantly!